Padmavati was the Queen of Chittor in the 13th century. She was married to Ratan Singh and was known for her surreal beauty. People yearned to even catch a glimpse of her exquisite features. Alauddin Khilji was one such man. However his greed and lust caused him to declare war against Chittor. When it became clear that he would win, Queen Padmavati made a decision which would go on to impact millions. She committed Jauhar which is defined as the act of mass self-immolation by women in parts of the Indian subcontinent, to avoid capture, enslavement and rape by foreign invaders, when facing certain defeat during a war.

Although the goddess like Queen died, Indian history immortalized her.

And this is her story.

p.s: part two coming soon:)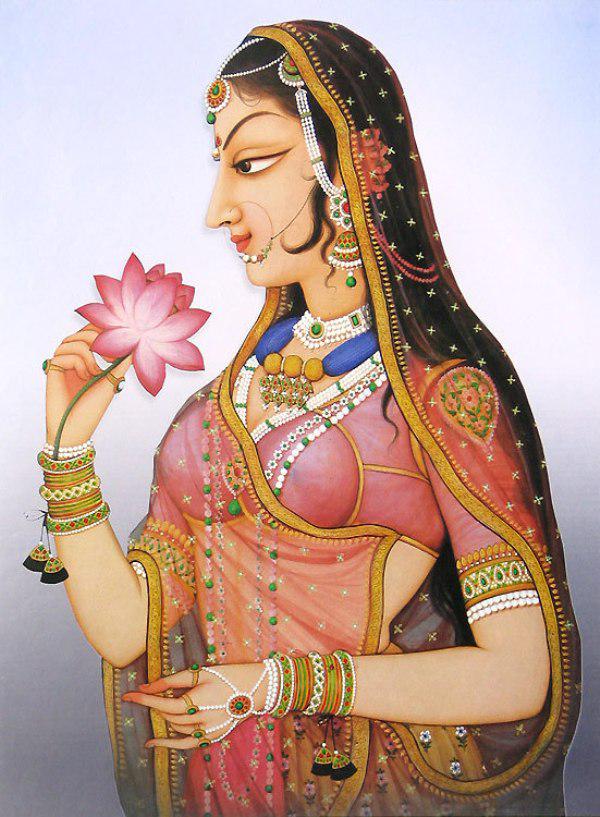 Praises of her pulchritude,
Fill the ancient halls of Chittor,
Hira Mani tells tales of her beauty,
The rajput warrior desires to know more.

She walks in her ghagra choli,
Embellished with heavy gold beads,
Blinding mirror sequins,
Like a lotus flower amongst weeds.

He reaches the doors of Singhal,
Wins the swayamvar as his duty,
Marries the legend of folk songs,
Padmavati, the epitome of beauty.

Nights in Chittorgarh seem like bright mornings,
For her divine glow ignites the sky,
Maybe that's why the moon hides behind the sun
The Queen's royal glamour makes it shy.

Alauddin follows the tittle tattle,
With his desire to own every precious thing on land,
Ratan Singh mistakenly prepares to battle,
But Queen Padmini is Khilji's only demand.

Yet looks don't limit to her charms,
She allows a glance,
The catch? 
Seeing her reflection is his only chance.

Furious sultan deceits the trusting Ratan singh,
His lifeless body falls to the ground,
Men with armours clench their shivering swords,
"Jai bhavani," they scream as mughals surround.

Alauddin storms inside the majestic fort,
A surprise beholds his eyes,
Sixteen thousand women in crimson red ghagras,
Dressed as newlywed brides.

They're more than enough to take him down,
But they don't,
Instead they fill the palace with echoes of their cries,
Chanting, "jai bhavani"
Ready to sacrifice,
As each second, a braveheart dies.

Yearning to catch a glimpse of Queen Padmavati,
Khilji sprints across the halls,
He screeches as the gates close,
And she embraces the fire,
With no tears in sight,
For they may have killed the rajputs,
But Padmavati won this fight. 



Aur yeh hi, Alauddin ki sabse badi haar thi.