In the Hindu epic Ramayana, Goddess Sita was known to be Lord Rama's wife. She accompanied him in his 14 year long exile along side his brother Lakshmana. They spent a few years at Panchvati, also known as the site where Goddess Sita's abduction by Ravana, the ten faced king of Lanka took place. She is often regarded as the embodiment of wifely devotion and self-sacrifice.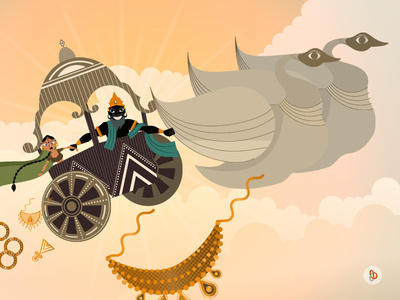 Fabric the colour of saffron,
Gently lays,
On the eccentric green grass,
Her sari spread like rangoli's rays,

Her thick silky hair,
Bound by elastic,
Few short strands flow,
With the breeze that blows,

Congested in a bijou hut,
Near the free fragnance,
Of dear Godavari,
Lies the confined heart of Panchvati,

The cold damp gufa,
Where sits the almighty shivaling,
Echoes her silent prayers,
Enclosed by 14 years of unfair penance and care,

Yet her genuine heart,
Sees no disguise,
A starving beggar appears,
Mouth full of hungry lies,

She steps out,
Crossing the holy line,
He doesn't take a second to grab her,
And divine Panchvati loses its shine,

The elastic loosens,
Black locks gather apart,
Her shrill screams haunt the hut,
Remorse fills her heart,

They fly away in his grand chariot,
Ten faces laugh aloud,
Yet the sky cries with her,
Her anger as heavy as the storm cloud,

Panchvati bids goodbye to its queen, 
Lord Rama shouts in agony,
For he failed his promise,
But long gone now is,
Sita, our Goddess.

"There may have been several ramas but only one sita."

~Swami Vivekananda